*to download the catalogue, you must be a registered user
Glass and aluminium balustrades of minimal design.
Regular and trendy lines, treated and balanced to give a minimal and elegant appearance.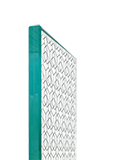 New colors for Profiles and Cladding
New RAL 9010 and 9005 colours available plus all the classic solutions ideal for any environment


Discover all the MATERIALS and the
PROCESSING at your disposal
For every use
your Ninfa 105 solution
ON THE FLOOR
INTEGRATED
INTO THE FLOOR
Profile section dimensions:
Technology
and resistance
Glass thicknesses designed to guarantee all the necessary safety and resistance
Go to the specifications table
of glass types
We always guarantee compliance with current regulations.
We carry out all the tests at the certifying bodies and in our laboratory.
200 kg/m (tested up to 300 kg/m) with glass 8+8 mm (tempered hardened) h max 110 cm

200 kg/m (tested up to 300 kg/m) with glass 10+10 mm (tempered hardened) h max 120 cm
The Ninfa 5 family tested and certified in the laboratory of the Polytechnic University of Milan.
With laminated tempered glass it exceeds UNI 11678 class 200 kg/m.
Example of laboratory tests
Do you want to request more information? Contact us!
Desideri richiedere maggiori informazioni? Contattaci!
We carry out your project!
Ninfa the series 6,
glass balustrades for architecture.
All about the Regulations
and on Safety