Divide your environment
in full transparency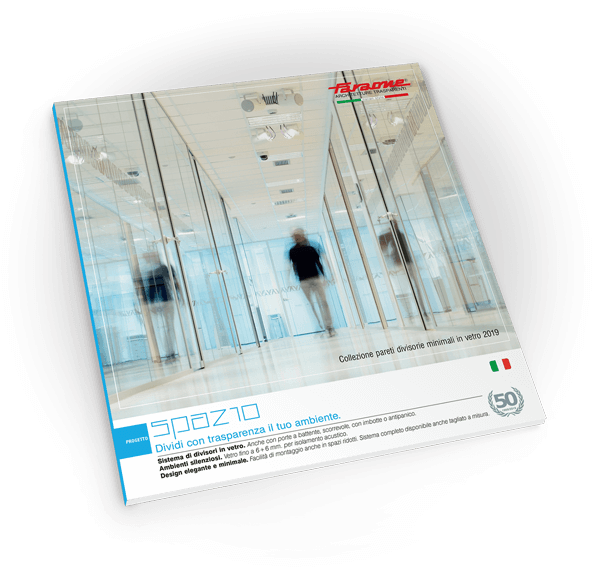 *to download the catalogue, you must register on the site
Spazio, glass and aluminium partition walls and integrated doors. The ideal solution to divide your environments in full transparency.
Spazio

A complete system of aluminium profiles with minimal sections and numerous accessories for the easiest installation possible.

Adjustment

Fully adjustable from the inside, with variable heights based on the glass installed.

Fast installation

It is equipped with the standard accessories to favor it a quick installation.
The ideal solution to remodel your environment in safety and transparency
Many types of walls
for all your environments
Door with fixing
on masonry
Coupling of aluminium profiles
Organize your environments with elegance and functionality
Working at home? Start redesigning your smart working of tomorrow:
Having an office space in your home helps with concentration and productivity.
If you don't have an entire room at your disposal?
However, you can carve out a small corner in the bedroom or living room to build your personal studio and choose whether to opt for maximum transparency or create a privacy zone.
How do you imagine your ideal work environment?
Functionality and design also for offices
Open space VS closed offices 
The current mood for the design of domestic and working environments is to create open and multifunctional spaces.
In some cases, however, the Openspace solution can make the workspace very dispersive, noisy and in general less functional.
There are alternatives

Choosing glass partitions allows several advantages:
Invisible walls
or privacy corners
functionality and versatility:
Thanks to the wide possibilities of customizing the glass, you can choose between a totally transparent environment or particular finishes and graphics to have a corner of total privacy.
Complete the system with our range of swing doors.
With manual or automatic hinge.
Personalize your space
with graphics and decorations
We carry out your project!
All about the Regulations
and on Safety