Take care
of the people you love.
With the latest generation of Ninfa balustrades
Take care
of the people you love.
With the latest generation of Ninfa balustrades
Watch the new Web Spot
Take care of the people you love with Faraone
More comfort
on the balcony and terrace
with the latest generation NINFA railings.
Your point of view matters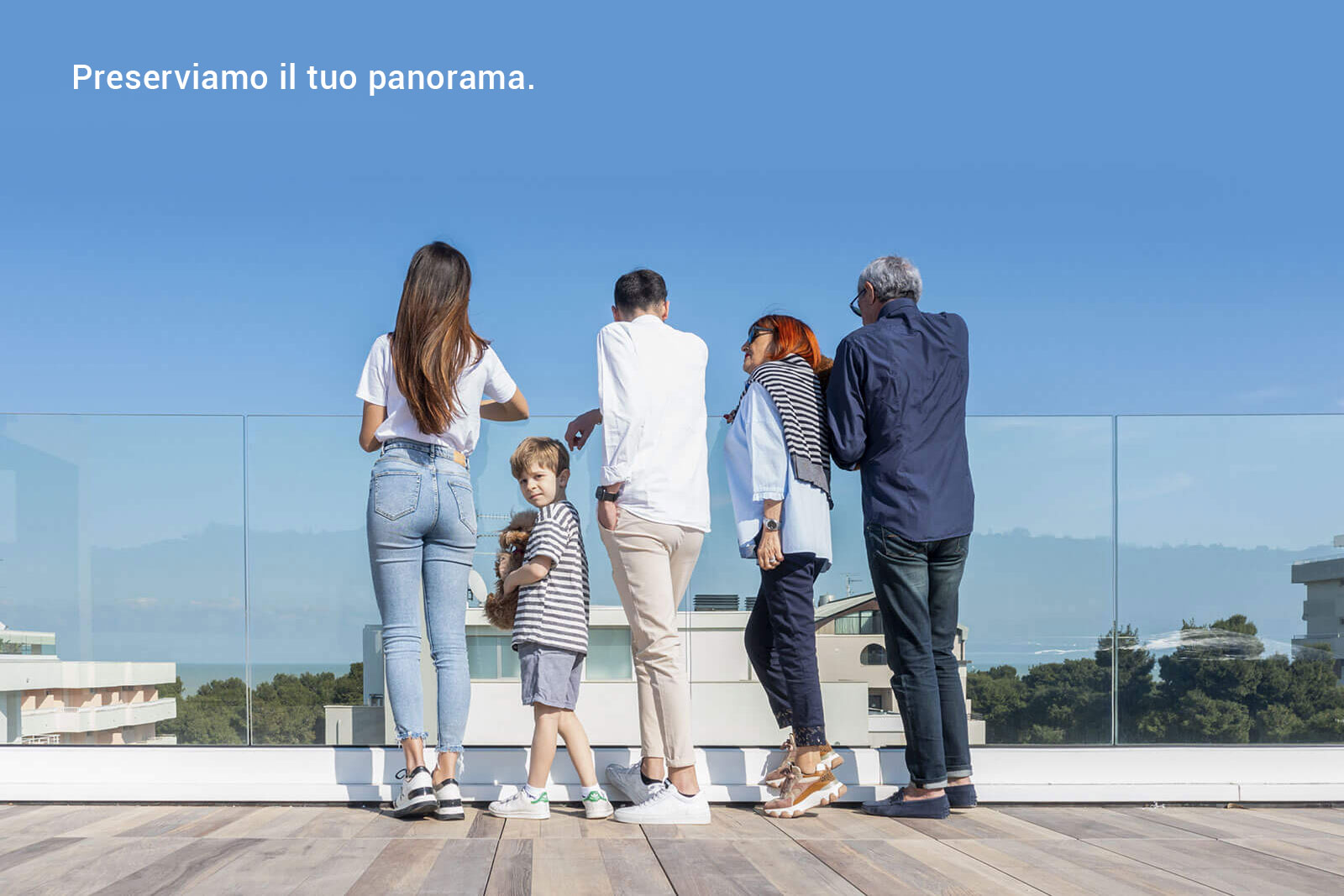 Get ready
to incredible news
Innovative glass balustrades
Latest generation technology
a glass balustrade profile designed for every environment
INTEGRATED INTO THE FLOOR

A new way of conceiving
the glass balustrades
Many innovations and solutions
Unique performance of its kind with greater glass heights to guarantee the usual safety and meet new architectural solutions.
NINFA series 6 meet the calculation verifications with engineering software and laboratory test simultaneously (static load test and dynamic impact test), required by the italian regulations.
Ninfa series 6 arrives
with glass heights up to 1.5 meters!
Today, there are more and more requests for high
balustrades that go beyond the standard minimum height, for particular intended use, for greater safety, comfort or aesthetic taste.
Find out all the certified glass heights in the Ninfa catalogue.
A record that continues.
Installation only from the internal side.
New finishes
for all tastes
Choose from ours
color selection
or find yours among
+ 2000 RAL colours
Make shine
your balustrade
The glass parapet
it's not just a balcony!
Infinite technical solutions for your project
Look at all intended uses
1,100,000 meters of Ninfa installed
since 2009 in more than 110,000 homes
40,000 orders processed
to direct customers
We provide tables with calculation verifications using specific software + laboratory test results.
Ninfa the 6 series is the first glass railing system already compliant with static calculations, verified by our technical department with inimitable performance.
Find out all the models
of the 6 series
YOU MAY ALSO BE INTERESTED
other models of Ninfa parapets for your balcony or terrace.
Watch the presentation event Ninfa la serie 6
Watch the Ninfa series 6 crash test
Watch the video of the interviews
Sabatino Faraone talks about the new series 6 of NINFA.
Interview with Flavio - CEO Faraone Architetture Trasparenti.

Interview with Gabriele Romagnoli - Engineer at Faraone Architetture Trasparenti.

Interview with Matteo Paolini - Designer at Faraone Architetture Trasparenti

Interview with the Area coordinators of Faraone - William, Davide, Enzo

Interview with Roberto Volpe - CMO at Faraone

Do you want to request more information? Contact us!